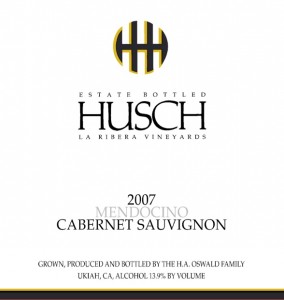 This bottle came from my "Instant Wine Cellar", a collection that I won at a fundraiser for my son's school. We've tread lightly as we've dipped into that collection, generally saving the higher end bottles for sharing. This was one of the first bottles we opened on our own that made a big impact.
The label copy makes much of the wine's extended oak barrel aging period. That is with good reason; the oak dominates the wine's complex layering of flavor. This bottle was fantastic and I gather that it would have improved if we'd held it for a few years longer.
The grapes came from my Dad's hometown, though Husch is located one valley over.